Read this story online as it was published in the South China Morning Post.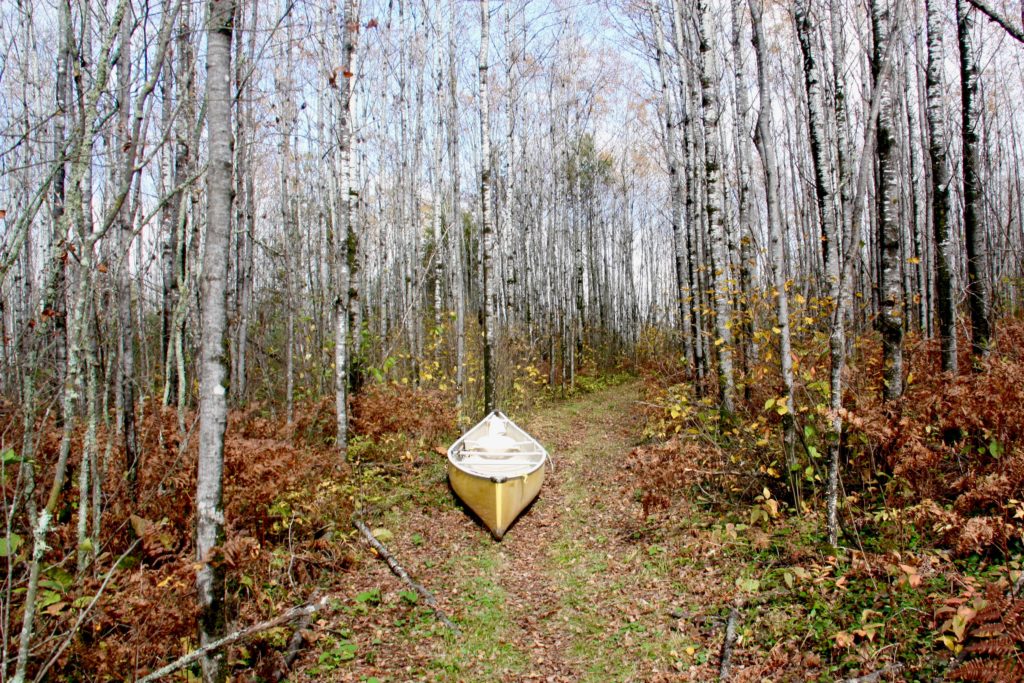 "This sure doesn't feel like October," my brother says, standing knee deep in lake water, squinting up at the warm afternoon sun.
Our yellow canoe is pulled up on a narrow beach, perpendicular to the deep hoof prints left by a passing moose. The birch and spruce forest leans over the beach, as if reaching for the sunlight that glitters off the water. Most of the leaves have already fallen and the trees are naked and white.
"The water's a bit chilly, but the sun makes up for it," I say as I wade ashore after a quick plunge in Lake Kilvert, in Ontario's Eagle-Dogtooth Provincial Park.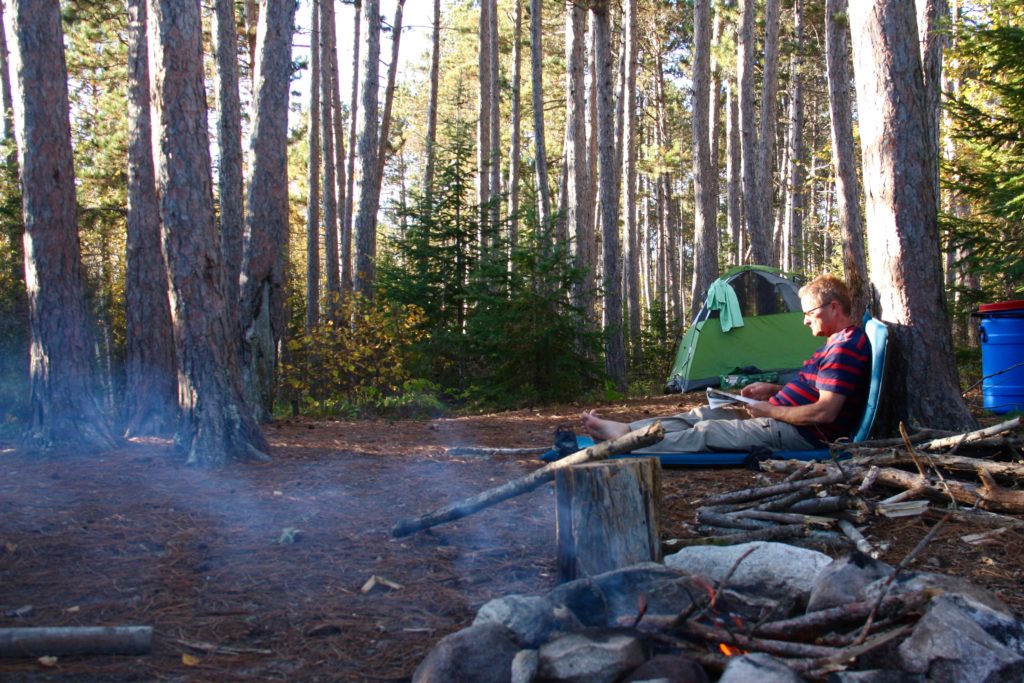 It's one of thousands of lakes carved out of the 4 billion year old rock. This is the Canadian Shield, the largest mass of exposed Precambrian rock on earth, the exposed continental crust of North America, where ancient mountains were flattened and lakes carved from rock during the Ice Age. Eight million square kilometers of it, igneous rock born from volcanoes that grew into tall mountains which were then worn down to rolling hills and a thin sifting of soil by monstrous slabs of ice.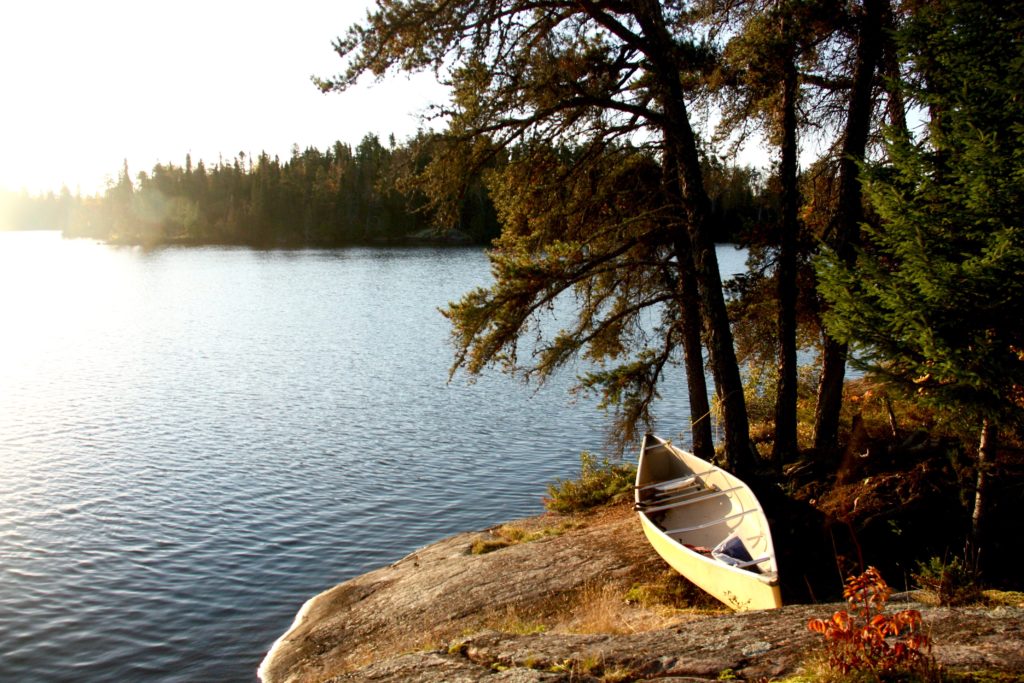 Right now, that much ice, or even snow, is hard to imagine. We're enjoying some late season warmth on the first day of our canoe trip. This park, only a 2.5 hour drive east of Winnipeg, has five meandering canoe routes through moraines, boggy beaver ponds and pine forest ecosystems. We gambled with a late-season trip and it paid off as we have the lakes to ourselves. Everyone else has already packed up their boats for the winter.
We hoist our canoe and trudge one and a half kilometers through the forest to Gale Lake, where we drop it with a sigh. I stretch my neck and shoulders as we walk back to retrieve our bags and a food barrel. This is just one of seven portages we'll make on our 51.5 kilometer route, the price we pay to paddle across these remote lakes.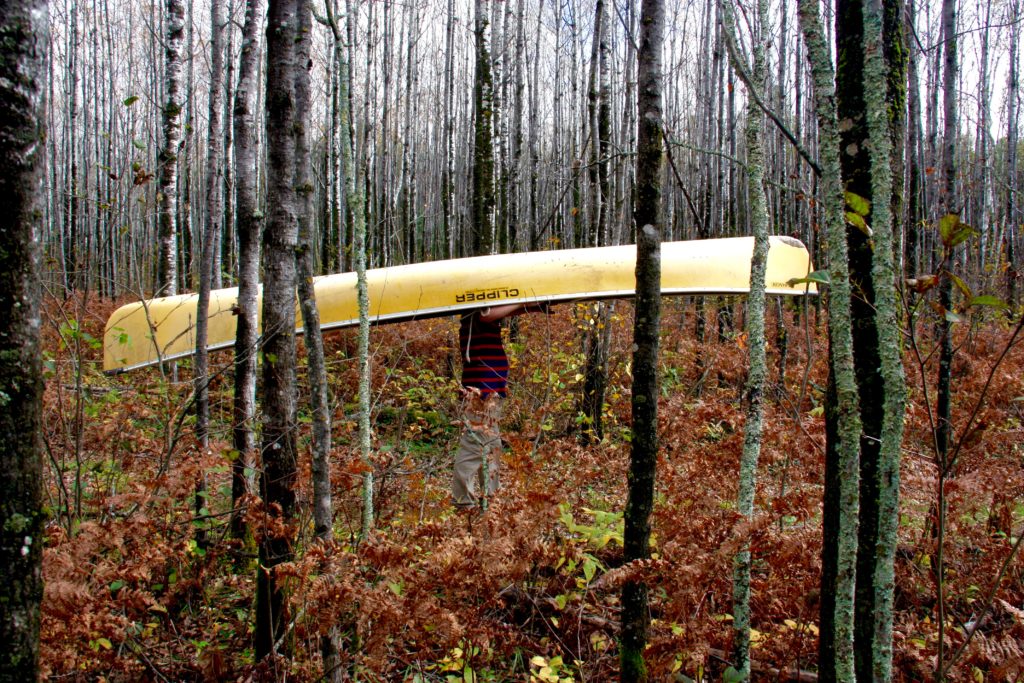 Once we've portaged all of our gear we set up camp in a stand of tall red pine on the western shore of Gale Lake, a small tear-drop shaped body of water that pinches off into a narrow creek in the north. There's plenty of wood for a fire, and I mix up a batch of bannock, the unleavened Native American bread. I fry it in a pan, seasoned with wood smoke and raisins.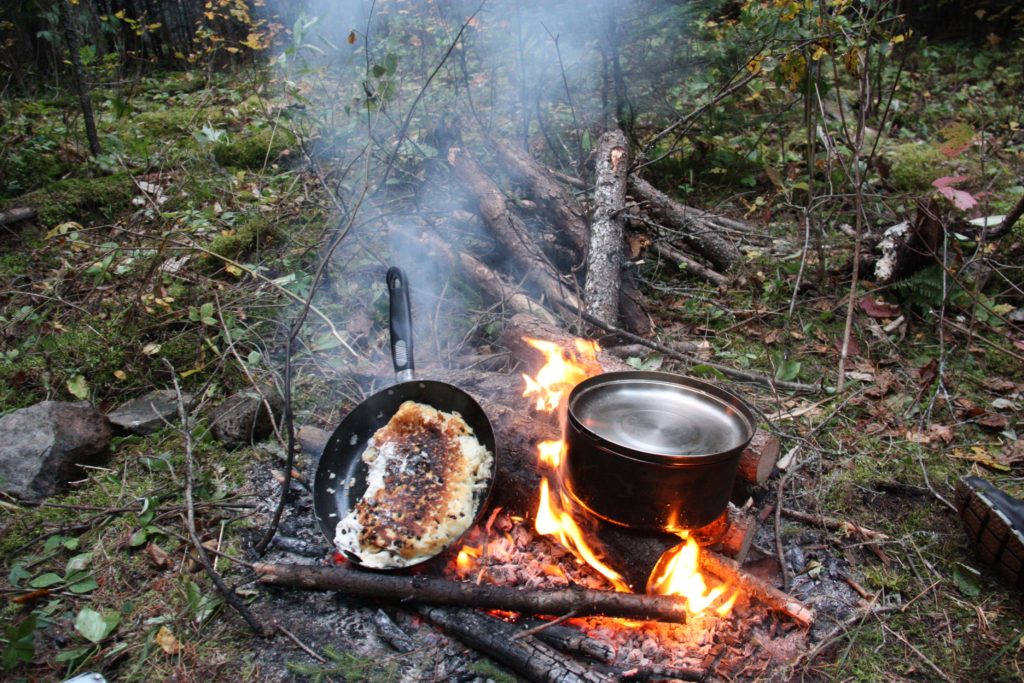 The Canadian Shield is the home of Algonquian nomadic hunters, who paddled these lakes in birchbark canoes, but the wide expanses of bare rock, poor soil and frequent marshes made it difficult for early explorers and fur traders to push westward into the continent. On the other side of this rock wall are the Prairies, Canada's wheat land.
Eventually the European colonialists blasted a rail line through the Shield, which opened it to prospectors who found gold, silver, nickel, cobalt, zinc, copper, iron ore and, more recently, diamonds. This is also where Canada has built massive hydroelectric dams to feed cities to the south. The Shield, both past and present, looms large in Canadian history and culture, and canoeing these waters is a rite of passage for many Canadians.
Our good weather holds for exactly two days. Just long enough for us to grow smug, congratulating ourselves for setting forth while others stayed at home. Then, during the night, the temperature drops. We pull out our thermal underwear and stoke the fire as rain spits from a leaden sky. Now, suddenly, that Ice Age seems more feasible.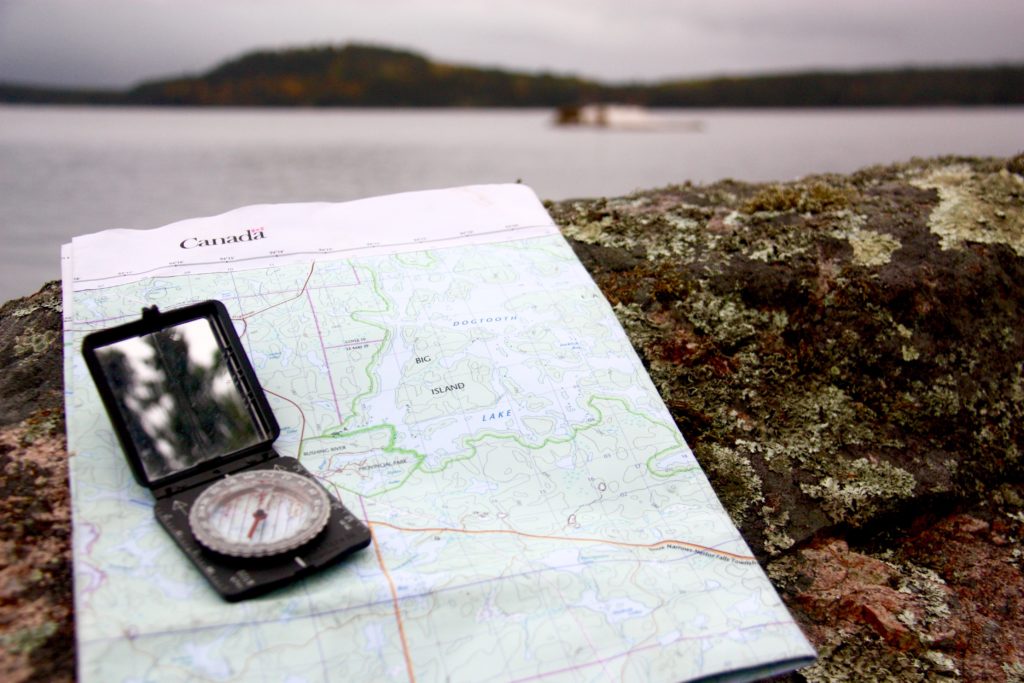 We're watching the change of the season, when the benign summer is replaced by the unpredictability of early winter. This winter won't wear down mountains or create a new lake like a true Ice Age, but it will put the land to sleep for the next six months or more.
Luck never changes in half-measures, and the wind that brought the cold air blows heartily from the southwest, straight on our bow. A day earlier the lakes were so still the rippled wake of a loon traveled a kilometre across the water, and now the grey water sloshes into our boat as we claw our way upwind.
"Do you still have control of the boat?" I call back to my brother, who is steering from the stern and who I've only heard grunts and curses from for the last few minutes. He is the more experienced canoeist, so surely he will know if we're pushing our luck. We're trying to round a point of land that has compressed waves and wind and I've just taken on a lap full of cold lake water.
"Yea, but we're on the edge," he shouts. "Just keep paddling, hard."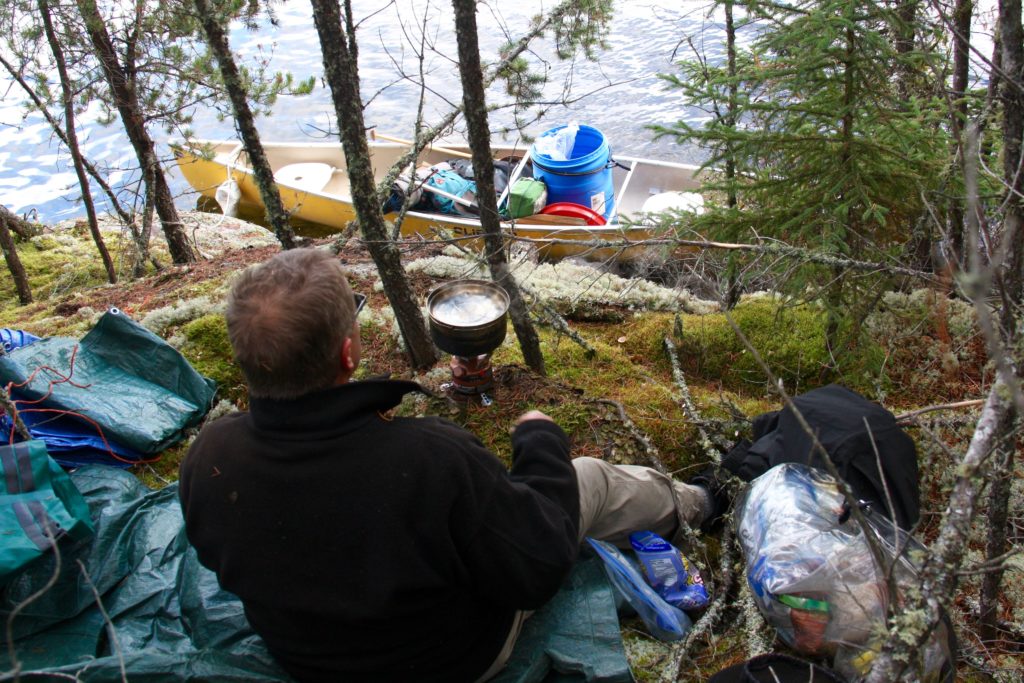 We make it, but once we're in a protected bay we rule against risking further miles in these conditions. Along a low, swampy shore on Dogtooth Lake we find a forest clearing created by gnawing beavers and set up camp to wait out the storm. Every few hours we walk to the edge of the woods to see if the white caps that race across the lake are becoming smaller. They are not.
But the view is great. Tall cliffs left behind by glacial erosion, topped by scraggly jack pine and poplar. Massive round boulders have been dropped by the retreating ice, like marbles left behind by a child. Speckled alder and red maple still sport a few blazing leaves, beacons in the grey light.
Our last morning begins before dawn. We've promised friends and family to reemerge from the wilderness at a certain time, and in order to do that we need to make up the distance lost to the storm. We stop once, mid-morning, to boil up some coffee, and then push on. The wind has died, leaving behind a cold mist that blankets the quiet lakes.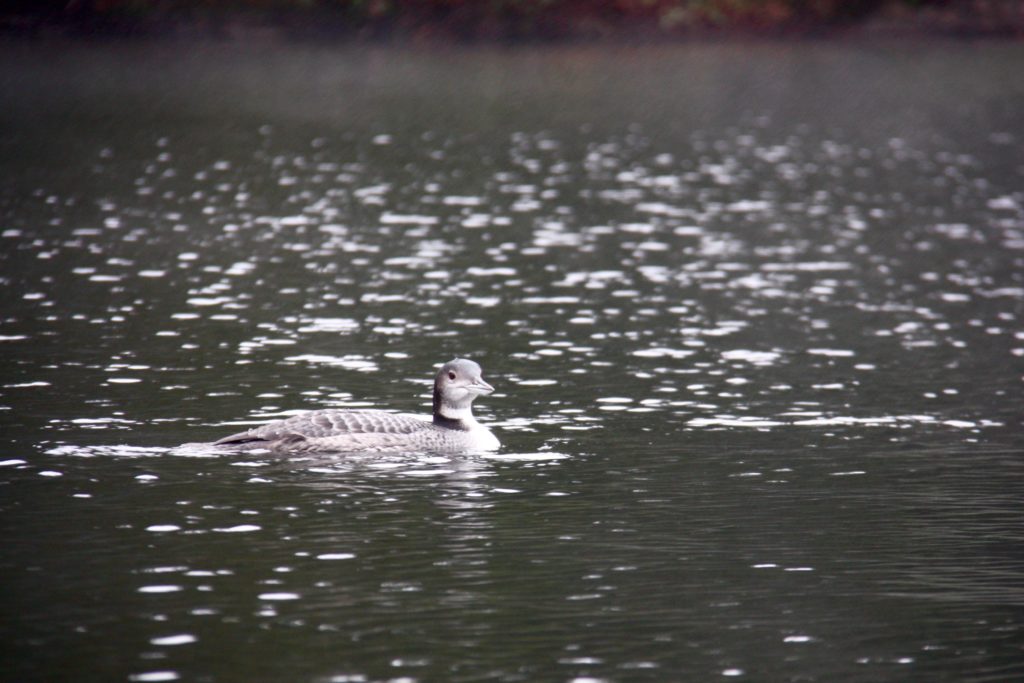 I've had something on my mind, but I've been afraid to say it. I didn't want to jinx things. But then we round a corner and I can see our truck and the end of our canoe journey. I double check, squinting to make sure, but I can see no one on the shore.
"We haven't seen another person in five days," I finally blurt out. "Not a boat, no people outside their cabins, no one at all."
"If there was anyone else out there they were warm and dry in their cabins," my brother says. "Probably looking out of their window at us paddling past in the mist and thinking, 'Those poor buggers'."