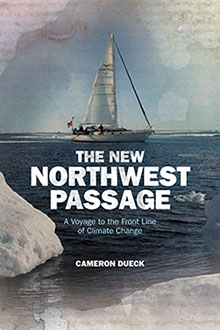 Cameron Dueck is a writer, adventurer and filmmaker. His first book, iPad app and documentary film, The New Northwest Passage, tell the story of his voyage through the Canadian Arctic as the captain of his own sailing yacht. His second book, about Mennonite culture in the Americas, researched during an 8-month, 45,000km, 19-country motorcycle journey across two continents, will be released in Spring 2020.  Follow Cameron on Twitter or read his blog to learn more about his adventures.
"With the eye of a journalist, the perspective of a historian, and the soul of an adventurer, Cameron Dueck set forth for the Great White North on what, at first glance, seemed like a most unlikely attempt to successfully negotiate the famed Northwest Passage under sail. Along the way, he endured crew revolts, busted gear, debilitating illness and endless self-doubt. But his trials and tribulations yielded a reward: an unparalleled portrait of the people and landscape undergoing radical changes at the wildest, most fragile end of the earth. Honest, funny and unsparing, The New Northwest Passage is a sobering, insightful tale."
— Herb McCormick, Senior Editor, Cruising World.