Join Cameron Dueck on Thursday, May 14 for a virtual launch of his new book, Menno Moto: A Journey Across the Americas in Search of My Mennonite Identity. There will be a reading, a Q&A, and the opportunity to win a copy of Menno Moto! Cameron will be joined by his brother, Rod, and writer Dora Dueck (no relation).
Join the event on Facebook Live
https://bit.ly/2SU8XNv
Thursday, May 14, 7pm EDT/6pm CDT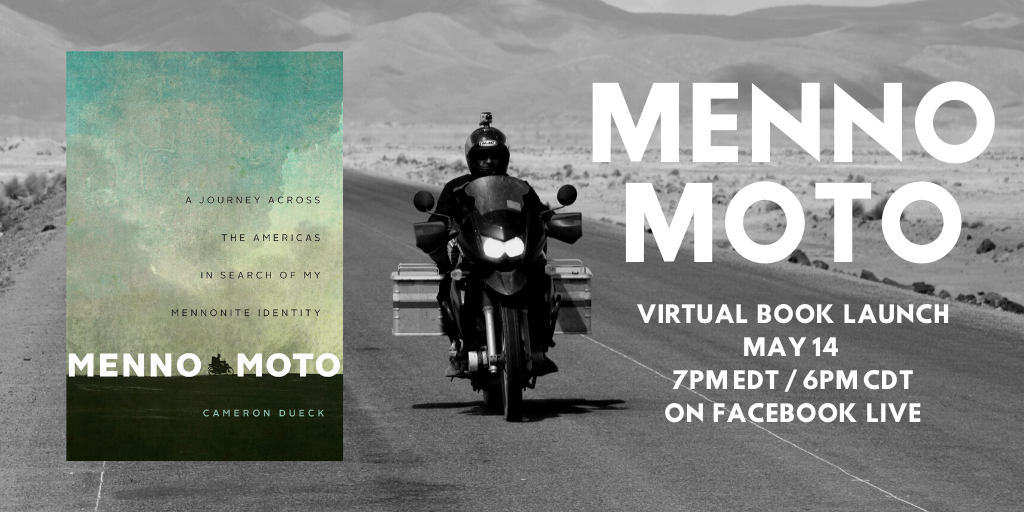 Across Latin America, from the plains of Mexico to the jungles of Paraguay, live a cloistered Germanic people. For nearly a century, they have kept their doors and their minds closed, separating their communities from a secular world they view as sinful.
The story of their search for religious and social independence began generations ago in Europe and led them, in the late 1800s, to Canada, where they enjoyed the freedoms they sought under the protection of a nascent government. Yet in the 1920s, when the country many still consider their motherland began to take shape as a nation and their separatism came under scrutiny, groups of Mennonites left for the promises of Latin America: unbroken land and new guarantees of freedom to create autonomous, ethnically pure colonies. There they live as if time stands still—an isolation with dark consequences.
In this memoir of an eight-month, 45,000 kilometre motorcycle journey across the Americas, Mennonite writer Cameron Dueck searches for common ground within his cultural diaspora. From skirmishes with secular neighbours over water rights in Mexico, to a mass-rape scandal in Bolivia, to the Green Hell of Paraguay and the wheat fields of Argentina, Dueck follows his ancestors south, finding reasons to both love and loathe his culture—and, in the process, finding himself.
To get your copy of Menno Moto, call or visit the McNally Robinson Grant Park bookstore. 10 AM to 6 PM, Monday through Saturday. 204-475-0483.
You may also order online here: mcnallyrobinson.com/9781771963473/cameron-dueck/menno-moto though note that it will take at least a week to process new orders, so for faster service we strongly encourage you to phone or visit the bookstore.