I've just arrived in Cusco, a small city in the middle of the Peruvian mountains that is a total tourist nightmare. Lovely colonial buildings and old cobbled streets though. This is the main town near Machu Picchu, the ruins of the ancient Aztec city. I'll likely stay here a day or two and get some writing done, although prices are triple what they are elsewhere in Peru, and then go see Machu Picchu before heading to Bolivia.
I was in Huacachina (pictures in previous post), which is about 750km from here. I took two days to ride over, camping along the way. Most of these pictures are of the scenery along the way. Impressive mountains, with the road often topping 5,000 meters.
A very tired and dirty rider after 10 hrs on the road.
High altitude lake. I was driving around on a path looking for a place to camp, but the wind coming off the lake was bitterly cold, so I continued on looking for some shelter. It was sunny, but cold enough that there was snow in the shade and the water had ice around the edge.
And then I found this little refuge. A broken down herder's hut just big enough to fit my tent, and some pretty splendid views. Only problem was that I was at around 5,000 meters, so I had a headache, felt dizzy, and was panting like a dog. Made for a troubled night of sleep, but it was well worth it.
There are heaps of wild llamas running around on the plateaus. They make a very odd sound, a cross between a bleat, a yelp and a belch. And they all defecate in one spot. No, really. I actually saw one go to the designated crapping spot, do his thing, and then wander off. There were only turds visible in these areas. Maybe the altitude was playing with my head, but that was my impression.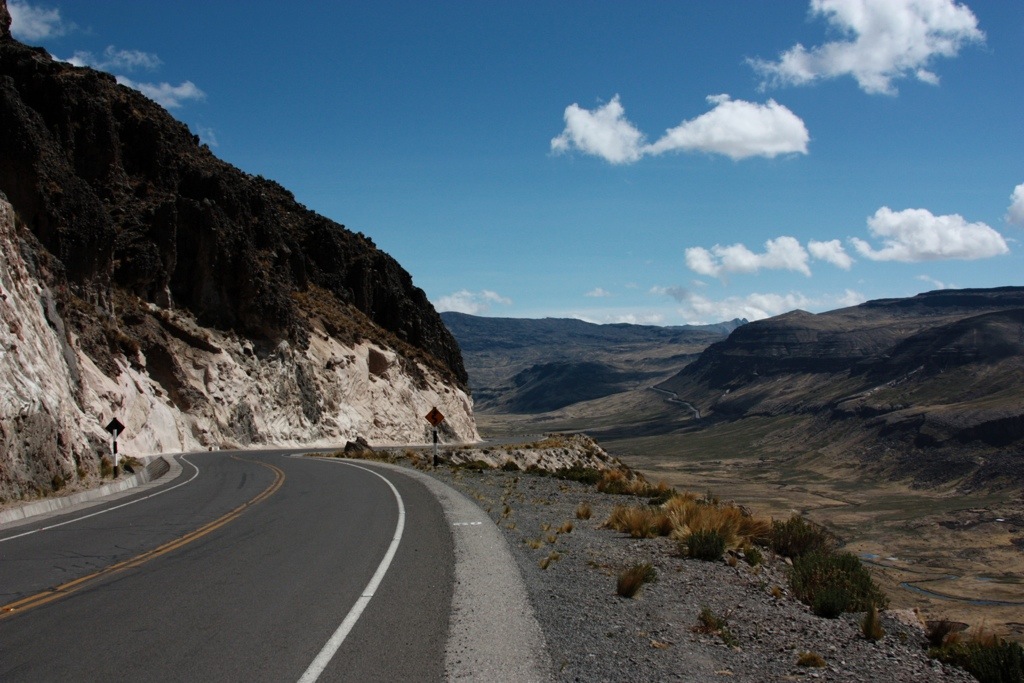 Hour after hour of this, with some dirt side roads thrown in occasionally for a bit of fun. I'm getting pretty good at curves by now.
The scale of this landscape is breathtaking. Huge, huge valleys, massive distances, and crystal clear air so you can see it all.