I crossed into Peru on the 14th, slept near the border, and then rode about 500km into the country yesterday. It's been a long haul of riding from Colombia. I made it across Ecuador in three days of solid riding. I realized I'm well behind schedule after faffing about in Central America and Colombia, and want to make sure I have plenty of time with the Mennonites in Bolivia and Paraguay. So I've been hitting the road hard. But I'm loving the riding. I'm usually on the road by 6:30 or 7:00 am, and ride for 10-12 hours, then repeat. It doesn't leave much time for blogging, I'm afraid.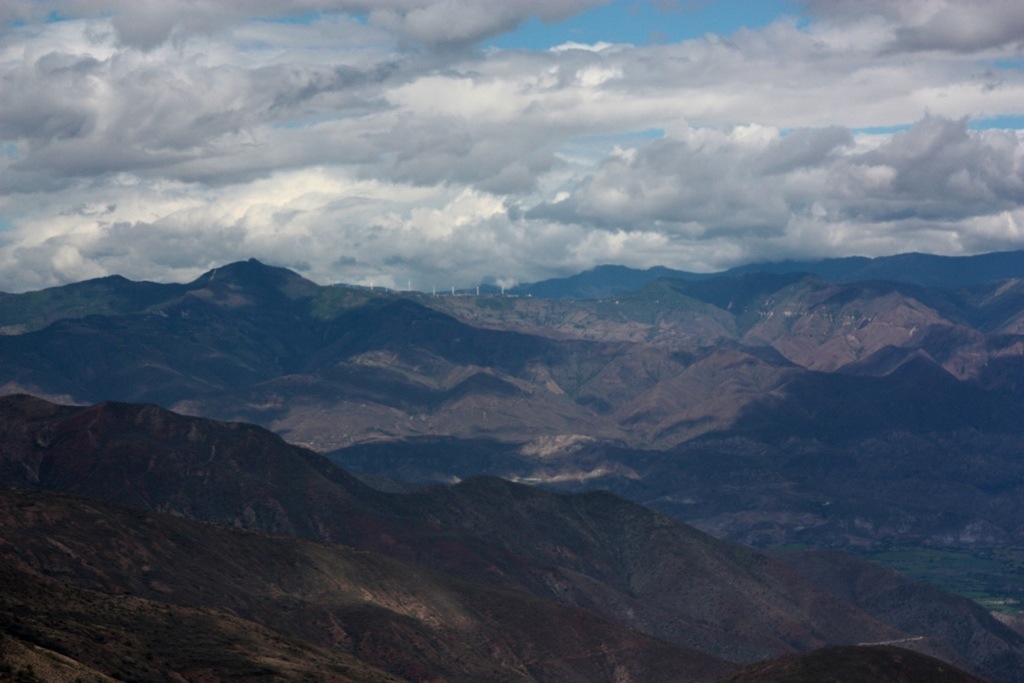 Ecuador was mostly mountain riding, much of it above 3000 meters. It was a relief to ride in cooler weather after all the heat and humidity of Central America. The towns and much of the rural areas reminded me of northern/western China. Dry, dusty, gritty, grimy. Unpainted brick buildings, and when they are painted it's with product or political adverts. But clearly there's some new money around, all from oil I think. New cars on the roads, lots of new, big houses.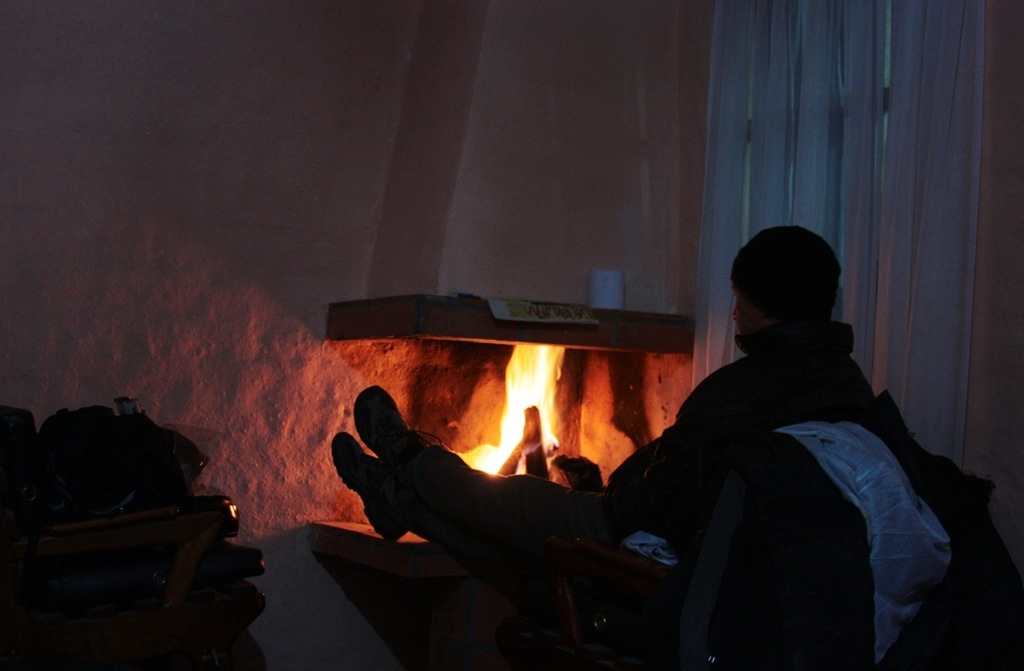 I'd hoped to do some camping in Ecuador, but I wasn't planning out my days well enough, and always ended up in some gritty little town at night, so that's where I'd sleep. The one day I did make it to a national park, late, in the dark, they turned me away, saying that they were having security problems in the park and that it was unsafe to camp. So I backtracked down the mountain and found a little cabin with a fireplace.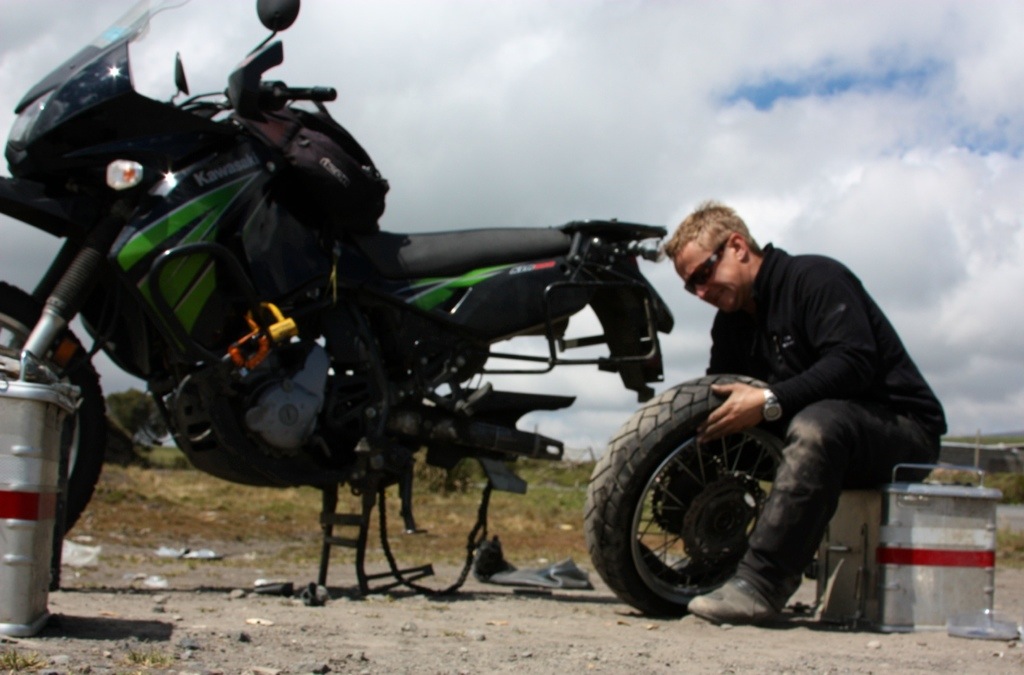 My first flat tire of the trip. I'd been carrying a new rear tire since Panama, so decided the old one was bald enough (and very thin, I realized when I took it off) and opted for a new tire and tube. Problem was, the new tire was very stiff, and my little traveling tire tools were not up the job. I managed to flag down a car –driven, of course, by another motorcyclist — and he drove me and my wheel to a town 10km away to get the tire changed while his wife watched my bike on the roadside. Came back, thought all was right, and put the wheel back on and loaded up. Then I realized I'd pinched the tube in my frenetic attempts to put the tire on. I tried pumping it up to drive a short distance…but the hole kept ahead of the pump. This time I had no one to watch my bike…took the wheel back off, locked the bike up as best I could and hitchhiked back to the tire shop, got it fixed, hitchhiked back to the bike, all was well. Four hours later I was back on the road. Going shopping for new tools in the next big town.
Gorki Mayorga, the man who came to my rescue and gave me a ride. His wife, also a journalist, stayed behind and watched the bike for me while we went to the shop.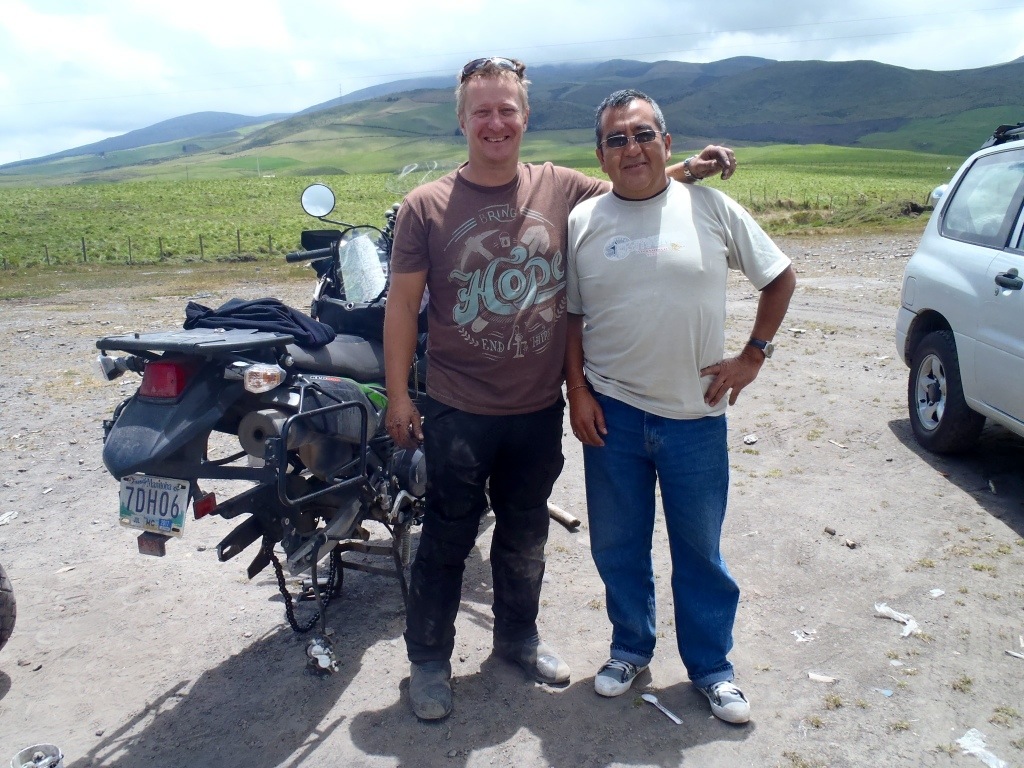 All
All well so far. The bike is standing up pretty well, despite the stray dogs that throw themselves at me. KLR 2, Dogs 0. (although the last one broke my improvised tool box when I hit him.)