I entered Brazil three days ago, though it feels like a week. This is the 16th country I've been in on this journey. The change from Paraguay was immediate and huge. Brazil is clean, pretty, green, civilized and wealthy. I like it, lots, although I am back to square one in terms of understanding what people are saying. Learning a bit of Spanish hasn't done me a lick of good in understanding Portuguese.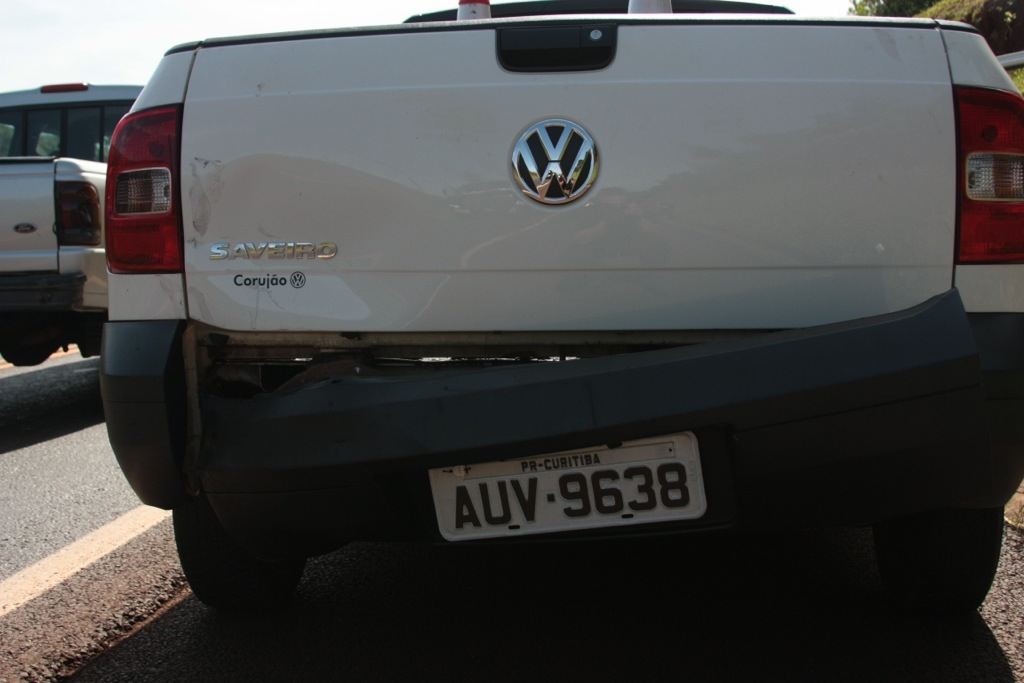 I had my first major accident of the trip shortly after entering Brazil. A truck was stopped on the highway. A car in front of me blocked it from my view. The car swerved to avoid the truck at the last moment, leaving me with only meters of braking space. I was doing about 100km/hr and had only a split second to lock my brakes, so I estimate I was doing 70 km/hr on impact. My last thought was "This is gonna be a big crash". But I got up immediately after everything stopped moving, and thought "Hmm, that wasn't so bad." I have not yet figured out the physics of it. The truck was pushed forward by the impact. This picture doesn't show it well, but the truck bumper was torn clear off the frame. There was significant breakage/bending of the metal/frame. My bike suffered only some broke plastic on the fender and faring. The forks/wheel/handlebars are straight and true. I can't figure out what absorbed all the force, and a witness on the scene was as puzzled as I was, as were the cops, EMS people, the driver of the truck, etc. I woke up VERY sore the next day, and I still am feeling like I was beaten with a lead pipe. But nothing was broken. Yes, I'm a lucky man. I have no collision insurance, so I had to pay the guy about $180. I could have just driven away (even the cop told me that) but that didn't feel right, as technically it was my fault (although he was an idiot for parking on the highway like that). Life goes on.
A few bikers pulled up and helped me get my bike back on the road and negotiate the payment, etc. Thank you Volnei and Marcel!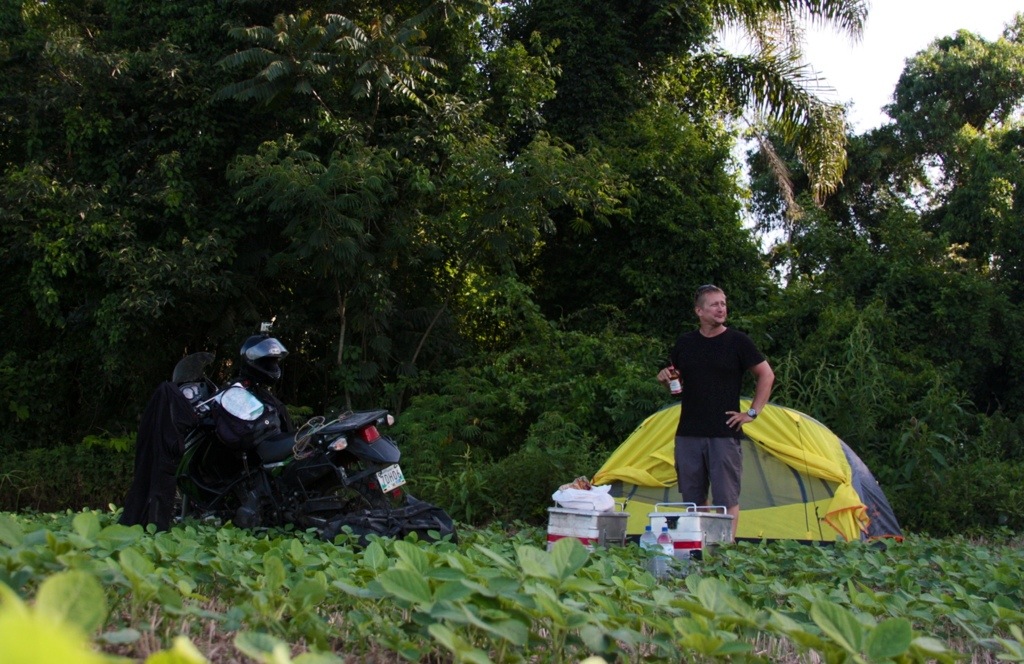 I spent my first night in Brazil camped in a soya bean field. I look rather proud of myself.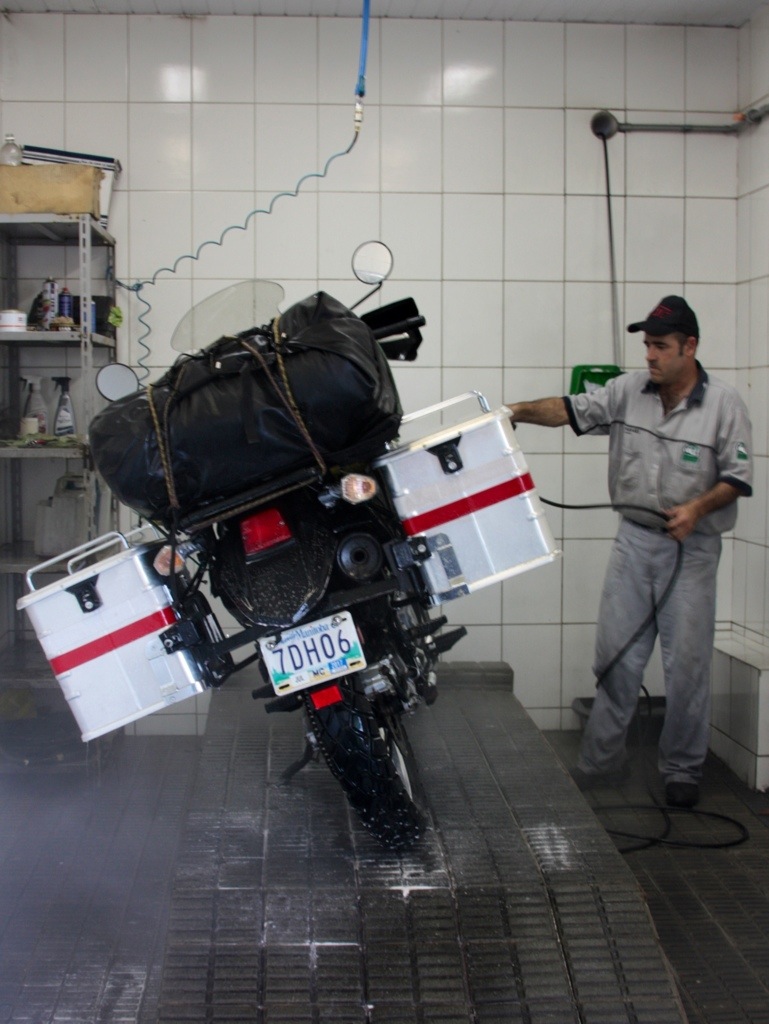 The next morning I rode into Curitiba, Brazil. As I entered the city I passed a Kawi shop, so I stopped to say hello. They offered to give my bike a proper wash, and then they escorted me to a cheap, clean and cheerful hotel in the center of the city. Thank you Rhino Motorcycles.
Curitiba and the surrounding area is home to about 8,000 Mennonites, most of whom came from Russia/Ukraine/Siberia in the 1930s. This is Maria Duck (nee Kroeker), who fled Siberia at 5 years old, crossing the Amur River into Northern China and living in Harbin for about 1.5 years before finding her way to Brazil.
Witmarsum (named after Menno Simon's birthplace) is the biggest colony. A lovely little village filled with intelligent, educated and open-minded Mennonites who have embraced Brazil as their home, at least the ones I met. Mennonites have a long and rocky history of resisting change, but in this case here I sensed a good balance of pragmatic acceptance of the onward march of time and continued pride in their Mennonite history.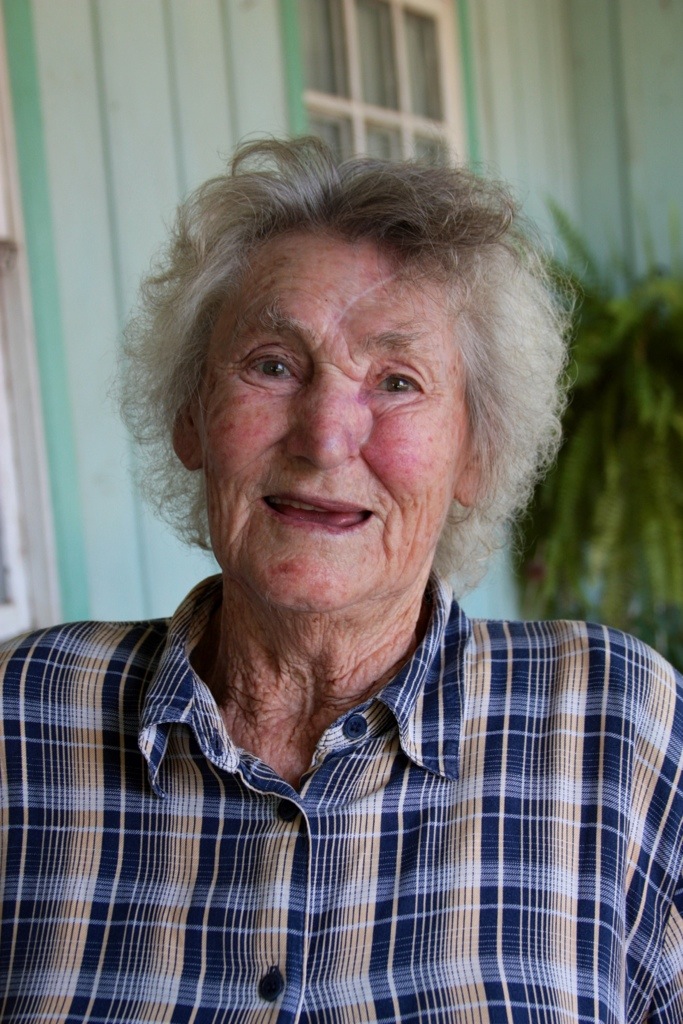 Lena Harder is 83, and fled Siberia when she was 1 year old. She worked in the Witmarsum hospital for years, and now runs the museum that is housed in the same building. I asked her what she thought would become of Mennonite culture in her area. "Few kids these days can still speak Low German, they all speak Portuguese. But it will continue to exist here for a few more generations, I'm sure of that. It's just part of life, we live in Brazil and we have to change and adapt to the culture around us," she said.