I've made it Potosi, Bolivia, one of the world's highest cities at 4090m. I'm gasping for breath as soon as I roll out of breath, but it is getting better after a few weeks at altitude. I've been at 2000-5000 meters for much of my time in South America. The roads in Bolivia are incredible, as in incredibly bad. It reminds me of Western China, maybe worse. But good fun on a motorbike.
The last few weeks have been pretty intense. I've been riding pretty hard/fast, without many days off. I realized this morning that I'd only done laundry once since Colombia, which might explain that funny smell. I've been riding, writing and doing a wee bit of sightseeing (Machu Picchu) but not a lot of sitting around. So today is a rest day to patch clothes (yes, really, with a thread and needle), do laundry, work on the bike, email, etc.
South America is different than any other place I've been for the sheer scale of the land. The mountains, rivers, plains, sky, clouds, roads, everything is bigger, dustier, steeper and grittier than elsewhere in the world. The food is pretty bad (chicken, rice and potatoes. Every day) but the people are super nice, even when I spit out some garbled Spanish question at them. And I'm meeting a lot of crazy travelers on motorbikes and pedal bikes. Far more here than in Central America. I meet at least one other traveler a day.
I've done about 28,000 km on the bike so far…and all is well. My license plate fell off from all the rough roads, so after leaving it tucked away for about 800km I've now taped it to my pannier. A few bolts have vibrated out (single cylinder plus bad roads) which I replace as fast as I can (like the engine mount that fell out). And the bike got pretty salty on the salt flats…so I found a car wash and gave her the first wash of the trip. The "discount" front tire I bought in Panama is falling apart, literally, and I hope and pray it lasts until Santa Cruz. The panniers are standing strong despite me knocking over a few stone fences with them along the way. My boots are at the shoe repair shop at the moment…gear never lasts when you really put it to the test. And my body…well, I'm tired, got a sore arse, am sunburnt and wind-chapped, but very happy to be on the road.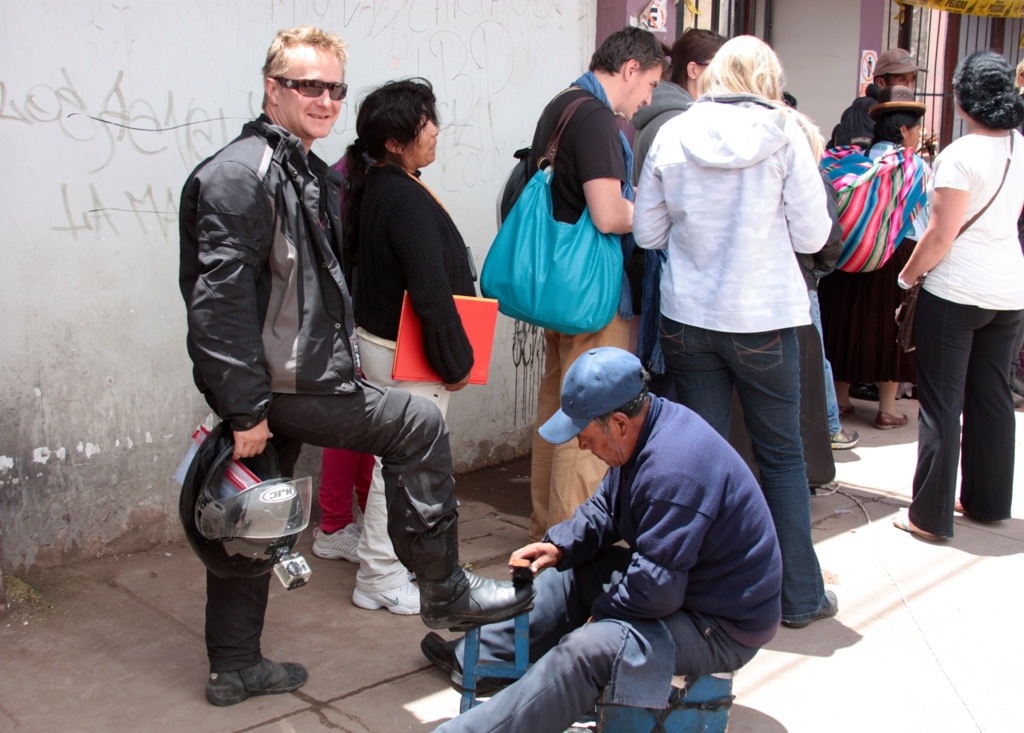 Getting a shoe shine while in line to cross the Peru-Bolivia border. I stood in this line for 1.5 hrs and then was kicked out when I refused to pay a bribe due to a piece of paper I lost. Then I found the paper, and they had to stamp me through. Ha!
This road will take you home son…to somewhere anyway. Up in the Bolivian highlands, without a proper map, relying on the compass and landmarks. (Like, keep that massive volcano to your left)
We (a German biker I met and rode with for 3 days and I) drove about 30km of the softest, dustiest sand road you can imagine. It was up to 30cm deep and bone dry. I fell off 4 times, but going so slow there was no problem. I was sneezing dust for 2 days, and it was worse because all this dusty gear goes into my tent at night! We camped in an empty sheep pen (stone walls make good shelters) and I think the sheep sneezed when they were chased into the pen the next day.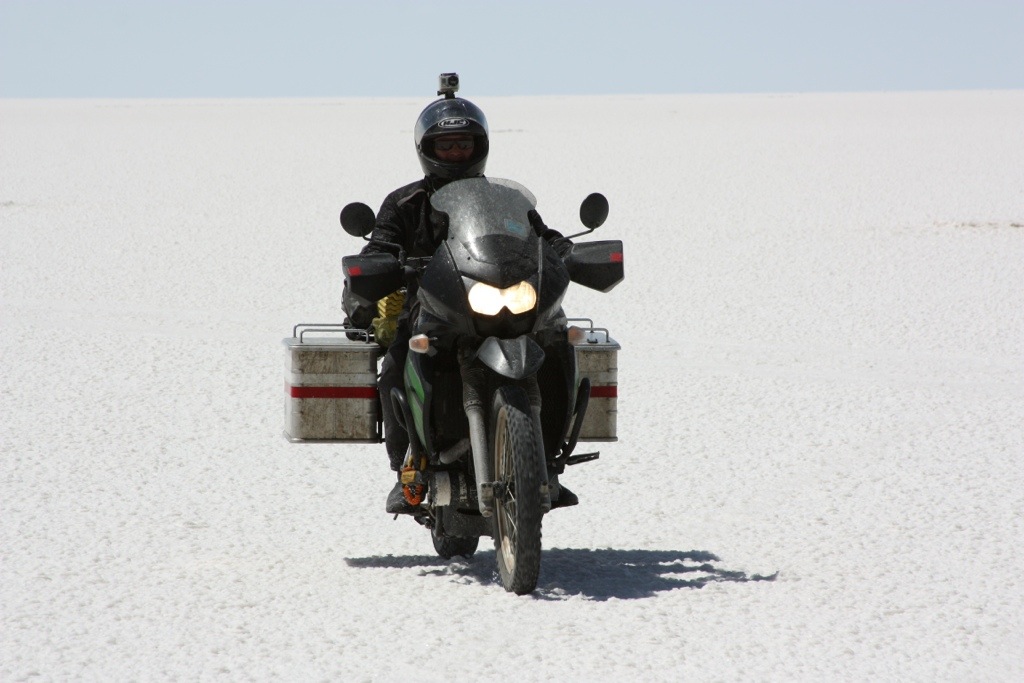 The Uyuni salt flats, up at around 3600m, fairly simply blew me away. I drove about 100km across the flats, total white world. The salt is flat, hard and fairly smooth. I read about this place as a kid, and was literally giddy with excitement to actually ride my bike across it. I took some salt to use in my next camping meal.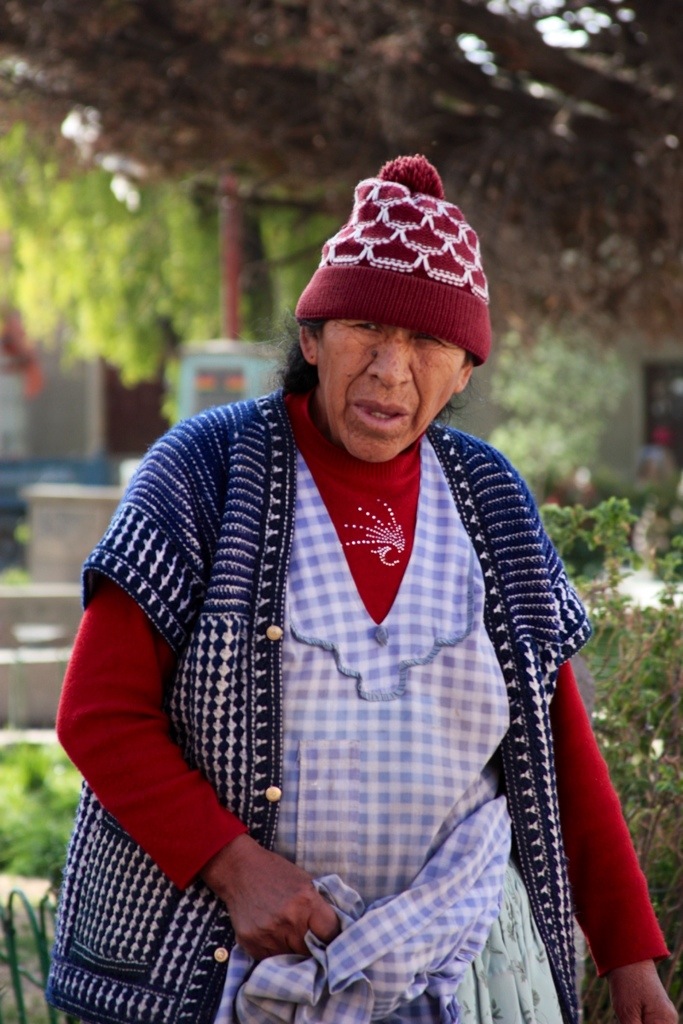 A woman (?) living on the edge of the salt flats.
Just happy to be here. This was one of my big "destinations" of the trip.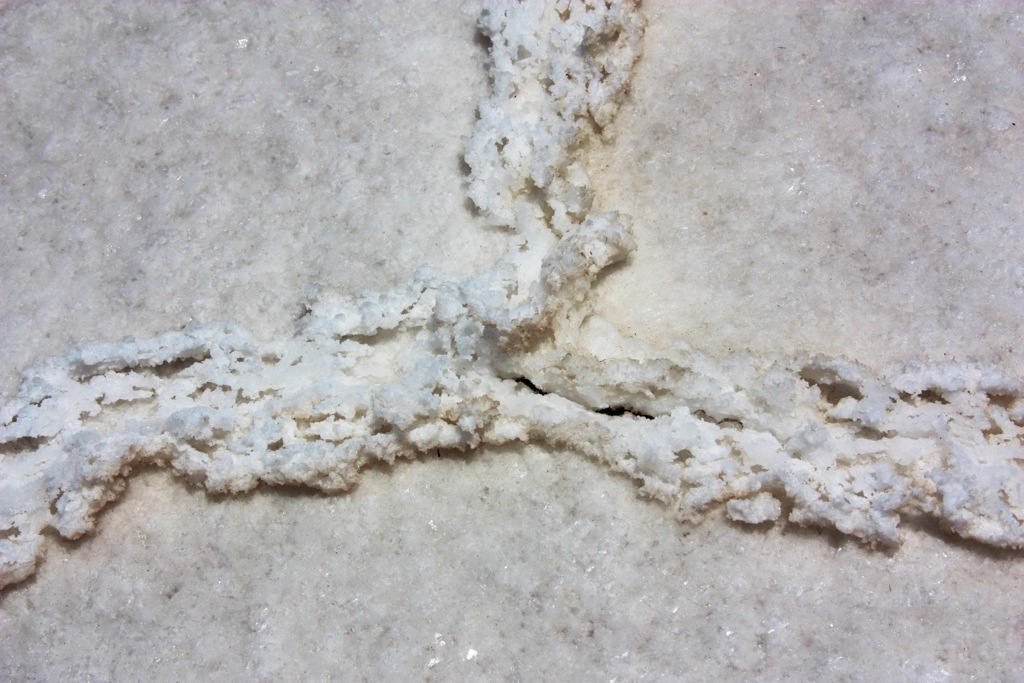 That's real salt of the earth.
Kinda contrasty for my camera, the volcano next to the salt flats. But it looked amazing.