It's been an incredible ride south from Mexico City. Victoria has come up to speed, literally, on her bike. I have to confess, after the first day of riding with her I thought, "Oh dear, this could be a long few weeks of riding." She was quite nervous on the first day, especially when we hit the highway and she had to pass big trucks. But since then she's become very comfortable on the bike and is taking on the role of biker chick very well, as this photo shows.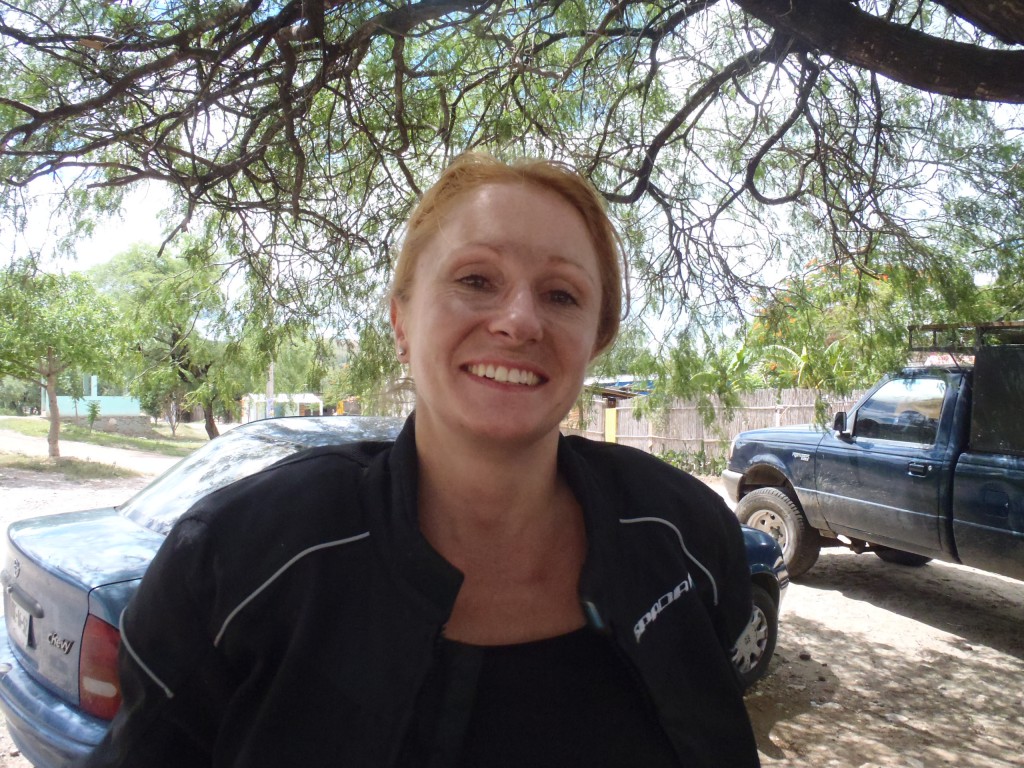 The morning of our departure we discovered that an oil seal on Vic's bike was leaking…actually gushing oil. We couldn't find an O-ring of the right size, but we managed to cut one down to fit. However, the oil still leaks out when the bike is cold…so we'll have to sort that out at a bike shop soon.
From Mexico City we headed to the Tenochtitlan ruins. Impressive, hot, and lots of tourists. The ride to Puebla was Vic's first taste of the open highway. We ended up ducking into a Holiday Inn the first night, as it was dark, we were tired, and it was there. The next day's ride, from Puebla to Oaxaca, was incredible. Twisting mountain roads, 2-lane, incredible scenery, tiny villages, and just km after km of riding, with very little traffic.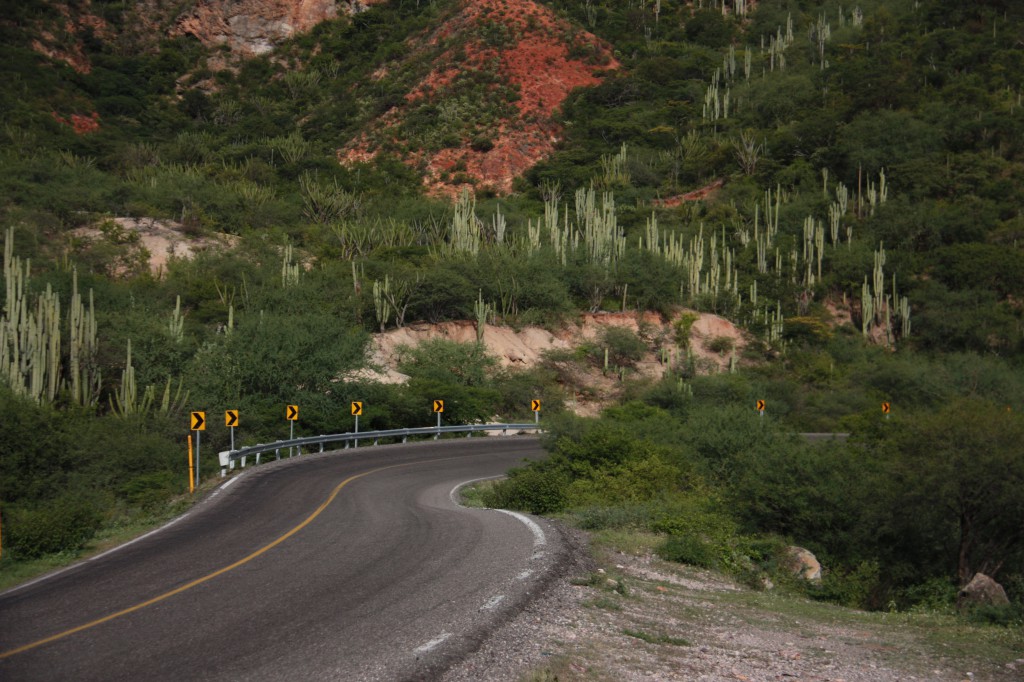 Of course, you can't go riding off into the hills of Mexico without having a petrol issue. Oddly, Victoria's little 250cc Yamaha appears to have longer fuel range than my 650cc, so at around 6pm I frantically started looking for fuel. We had 2 hours left to ride, and everyone we asked seemed to have a different idea on where we might find fuel. Finally, after stopping and asking for a "gasolinara" for the umpteenth time we found a family selling petrol out of their back door.
Many, many curves later we rolled into Oaxaca, very tired. We took the next morning off to take a quick look at the town. Stunning architecture, lots of cool little shops and cafes. And lots of tourists.
It was back on the curvy road that afternoon, but we didn't make it far before I got us lost, and then Victoria's gear shifter broke (twice). I had a bolt that fit, but while I was working on the bike I firmly planted my elbow on the hot muffler. Ahh, the smell of BBQ on a mountain road. We fell short of reaching our target of Tehuantepec for the night, so holed up in a little village about 50km away. It was dark by the time we rolled in, and we had just enough energy to enjoy a few Coronitas and a very tasty 40 peso (for 2. that's US$3) meal on the street.
Yesterday we made the final dash to San Cristobal. We found a shop along the way, which gave me an old bushing which I sanded/cut to shape to fit Victoria's bike. Now it's good as new.
We rolled into San Cristobal during daylight…a first since leaving Mexico City. This is yet another lovely little city, cobblestone streets, amazingly pretty courtyard hotels with well-kept colonial-era buildings. Today I'll do some work on the bike — new tire is so wide it rubs on my muffler, so gotta adjust that, and a few bits that are rattling, need oil, etc. I may also raise my bike back up. When I bought it I dropped it an inch cause I'm too short to ride it at stock height, however, fully loaded on Mexican roads I really need that extra inch of travel/clearance, so I'll just have to grow my toenails long so I can touch the ground.
Photo by Victoria Burrows